Planning & Development
Behind Every Successful Project…is an experienced team of planners and project managers
BSI completes over 6,000 jobs each year. Our team of estimators and project managers have a combined total of 175 years of experience, averaging to nearly 15 years each. Our associates are not only highly experienced, but also educated in construction management.
Because our team is located all under one roof, it allows us to be quick on our feet. While we pre-plan your project, our architects, designers, and carpenters are in line ready to do their job. Should a challenge arise, we are just footsteps away from every major player on your BSI team and we can quickly address and correct the issue.
Estimating & Budgeting
Our in-house estimators are experts at evaluating existing environments and accurately pricing each project. Using professional estimating software and 360 degree cameras, we are utilizing the latest technology to ensure consistency in all of our estimates and labor and material quotes. This allows us to establish a preliminary budget and schedule, which is the foundation of every interior project.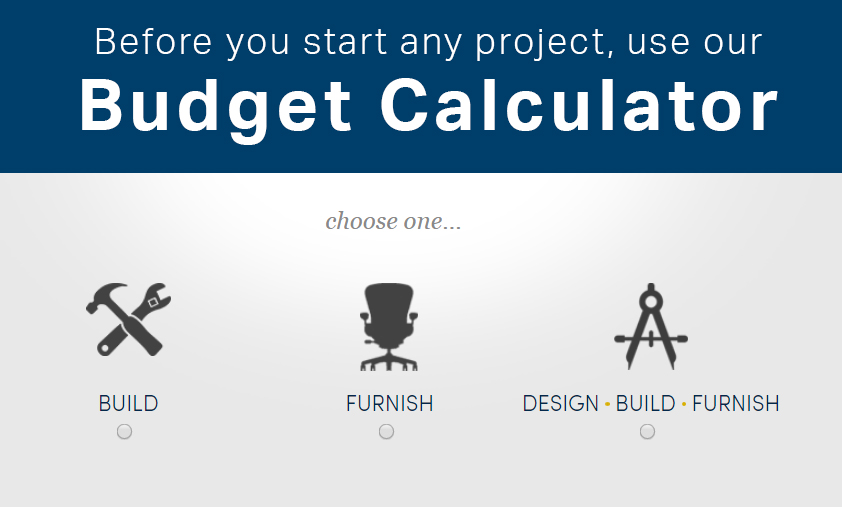 Budget Calculator.
Every project is unique. Our Budget Calculator tool allows you to create your vision for your project, while also showing realistic costs based on the selections you have made. By answering 15 simple questions, our tool will determine an approximate price range for their project.  If the budget appears to be too high, the tool allows you to easily modify selections until you have formulated a plan that best represents the your project needs —  and your budget.
Scheduling & Phasing
Employee disruption and downtime is a significant, yet hidden, cost in remodeling projects. We schedule, phase, coordinate, and execute all aspects of a construction project with the absolute minimum inconvenience or disruption to your employees. Because we self perform the work, we can easily schedule our craftsmen based on need, rather than relying on a subcontractor's availability and risking delays in the project schedule.
Because general contractors rarely schedule their sub-contractors to work on a job site simultaneously, their project schedules can be 30% – 40% longer than a BSI DBF schedule. BSI will have your staff back and working productively weeks earlier than traditional design-bid-build projects.
A cornerstone of our process is to pre-plan and phase projects, allowing our clients to continue with their day-to-day activities, with little disruption to their employees and operation.
Allow us to quote your next construction project