Butters Fetting Corporate Office
Butters Fetting, a Milwaukee mechanical contractor, wanted to revitalize and upgrade its 84 year old building with a goal of creating more usable, modern and productive office space.
BSI met the challenge by converting an unfinished section on the second floor into a new office space which provides both collaborative and heads down areas for employees. To make the space inspirational and welcoming, the first floor lobby and vestibule were redesigned and renovated. The design includes a ceramic floor with a coordinating inlay which mimics the circular soffit design above. The building's restrooms were also completely redesigned to accommodate today's ADA standards
The design incorporates original features of the 1920's era building, including a crane rail and the cast concrete support pillars, while also showcasing a variety of the client's mechanical and plumbing systems and services. The space has a black exposed ceiling which is sprayed with a coating to improve acoustics.
A variety of informal collaborative spaces were incorporated into the design. A Work Lounge provides a comfortable, multi-function area to meet, take a break, or work in a casual "coffee shop" atmosphere. The Work Lounge includes custom cabinetry, Cambria countertops, and ceiling clouds to create interest and improve acoustics. In addition, there are several other areas which incorporate standing height surfaces, allowing employees to quickly gather, collaborate, and return to work, making the most of valuable square footage. For more formal meetings, BSI added a small and a large "traditional" conference room with power, network and teleconference capabilities built into the table.
BSI's in-house Lighting Designer developed a dynamic lighting design which incorporated both LED and fluorescent fixtures into the space. Custom LED lighting fixtures within a circular drywall soffit in the lobby create a focal point as visitors enter the building.
To celebrate the client's community roots and heritage, BSI incorporated a large wall mural featuring an original article from a 1920's issue of "The Milwaukee Journal". The article details the company's original location and services offered. Historical company photos, logos, and corporate colors are displayed prominently through the entire space.
The final phase of the project included several exterior updates including the addition of windows to the façade, and infilling other existing openings to accommodate the changes on the interior. A new heated concrete walkway, paint, landscaping, new signage and canopies revitalized the exterior of the building.
Services BSI Provided
Architectural & Interior Design
Lighting & Ceiling Design
Interior Construction
Project Management
Furnishings & Installation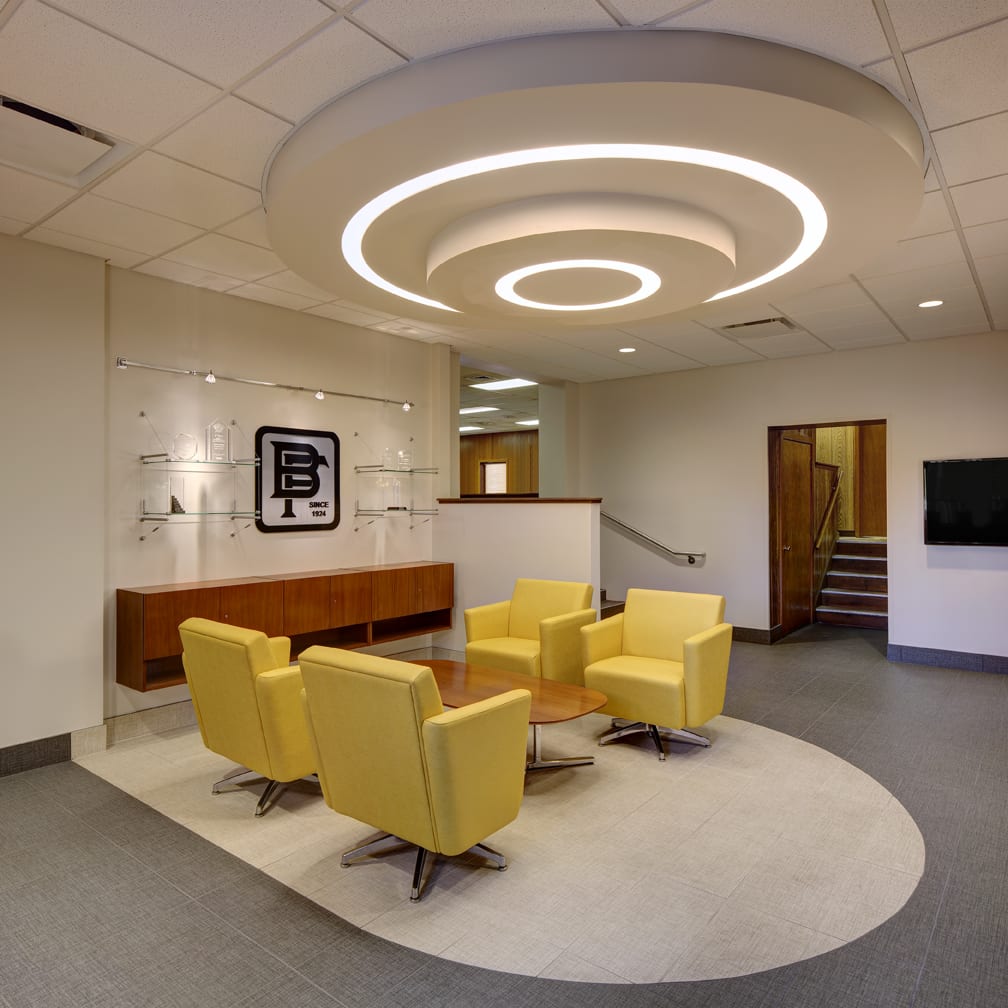 Renovated Lobby with custom LED light fixtures and circular drywall soffit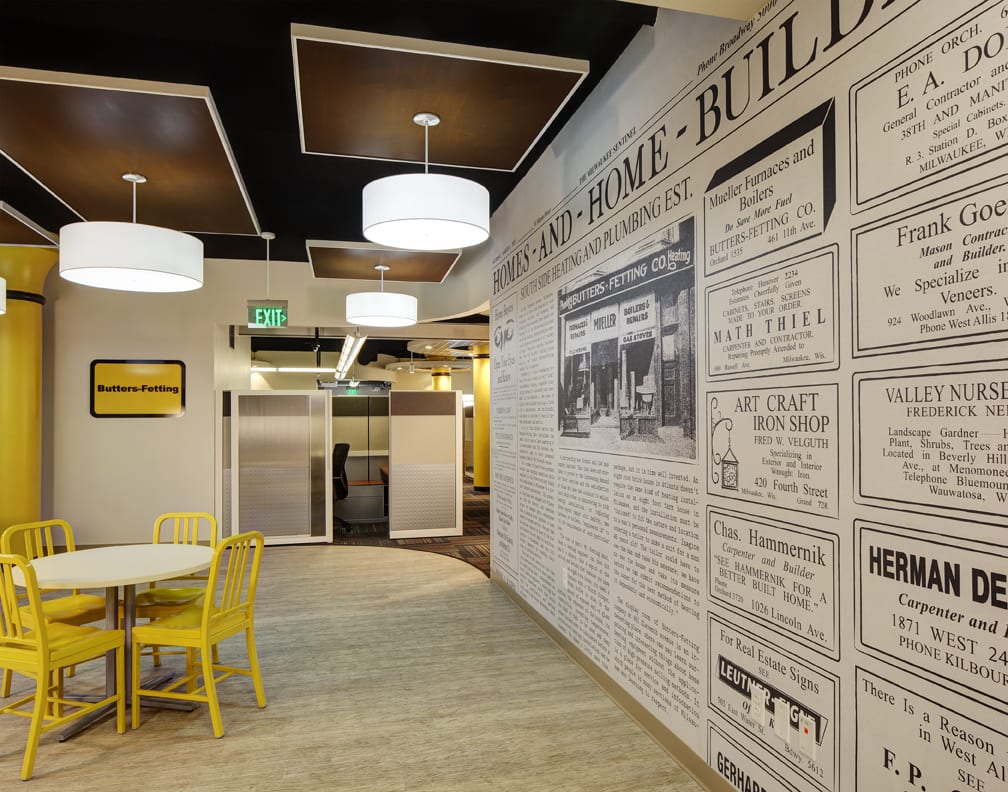 Work lounge wall mural featuring original 1920's article and historical photos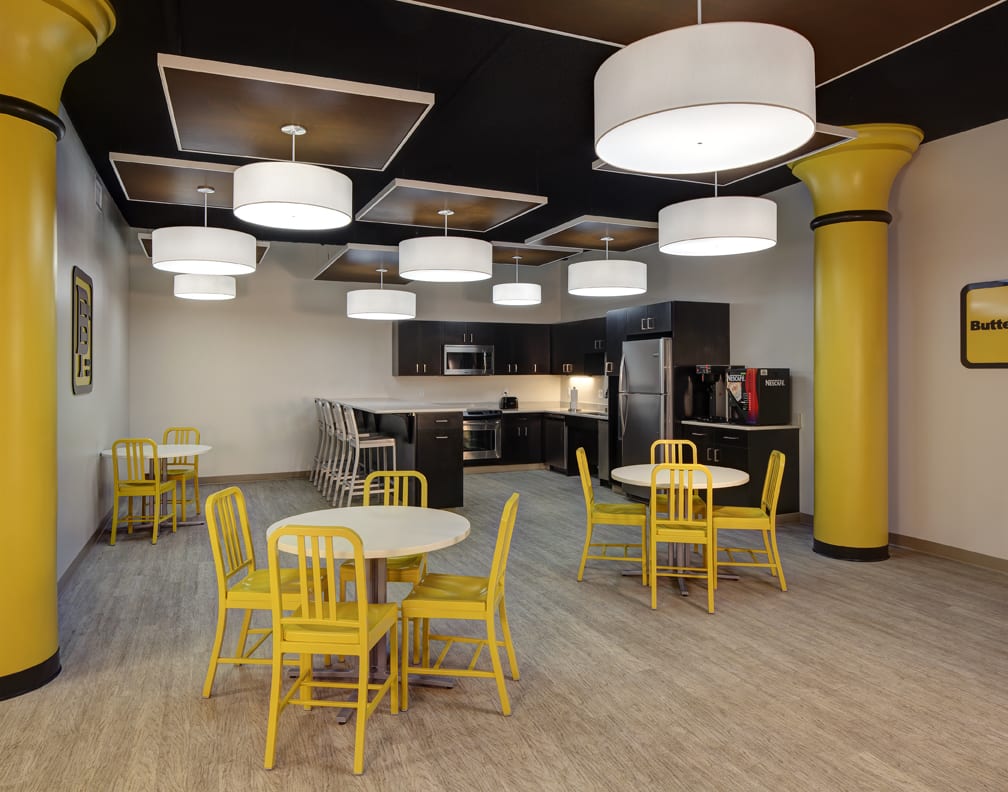 Employee work lounge featuring ceiling clouds and featuring light fixtures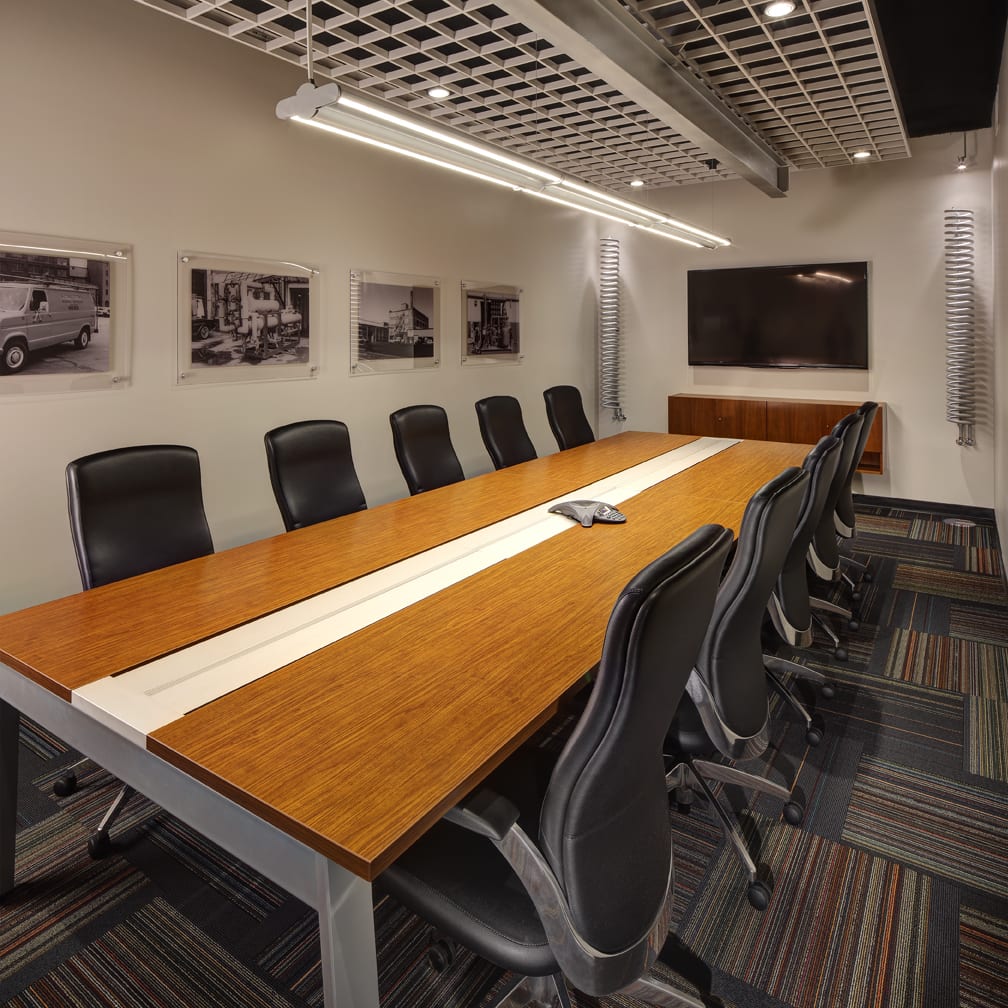 Meeting room with powered table, network and teleconference capabilities
Highlights 1920's features including cast concrete support pillars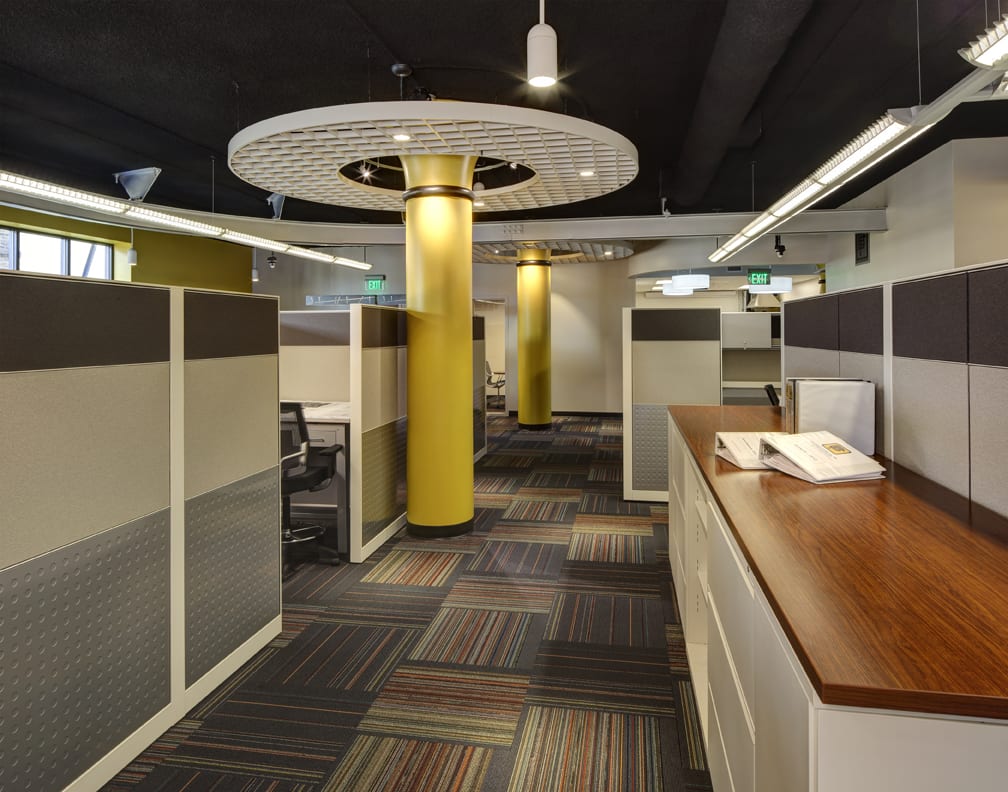 Standing height plan areas for informal meetings
Updated building exterior includes new windows, heated concrete walkway, paint, landscaping, signage, and canopies
---
Experience the BSI showroom
Get a feel for the work we do at the Showroom nearest you in Waukesha or Appleton, Wisconsin.
Schedule a tour