Glass Walls
Defining Space
Interior glass walls are a desirable feature in contemporary office design. While they often make small spaces feel larger and brighten up spaces by increasing the flow of natural and artificial light, they also attribute to a collaborative environment when used around private offices, conference rooms, and common areas.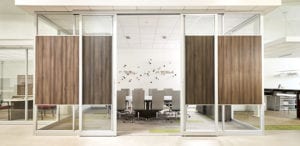 Make a statement, or keep it reasonable
When selecting glass walls for your project, our design team will consider privacy, lighting, safety, and performance. Additionally, our team can facilitate decorative window film applications that add an element of design, provide privacy, and support your brand.
How to incorporate Glass Walls in your space
Different design options can provide an element of privacy while taking advantage of the aesthetics of glass wall

Use within drywall to add an architectural element for your huddle space

Preserve the existing conditions of your space by working around natural elements

Maximize the use of your space while optimizing natural light