How new tech shapes growth, hiring and retention
Our team recently had the opportunity to visit Crestron's Experience Center in Chicago for a preview of their AV technology solutions.
Who is Crestron? Crestron builds the technology that integrates technology. Their automation and control solutions let people control entire environments with the push of a button.
Our visit with Crestron solidifies why AV technology is crucial in the workplace — and why it should matter to you.
Technology is a central attraction in recruiting
Your office can be your biggest recruiting tool.  At some point in the natural progression of the hiring process, you'll invite your potential hires into your office.  A candidate's first impression of your lobby, your meeting space, and your office in general, will highly affect their interest in your company. Today's talent pool of knowledge workers are very technologically savvy – and they tend to seek employers who are as well. Lack of technology, poor cable management, and limited digital presentation options all detract from the overall office environment. Today's top talent wants to know that you posses the technology that will allow them to do their job effectively and efficiently.
Happy Workspaces = Happy Workfaces
The buzzword of the month is retention. Upgrading technology in the workplace can boost retention. Technology exists to make processes easier, remove manual and outdated best practices, and save money. Sure, there can be growing pains in the adoption of technology, but change can produce a conversation of needed improvements in other areas. Crestron® Room Scheduling Touch Screens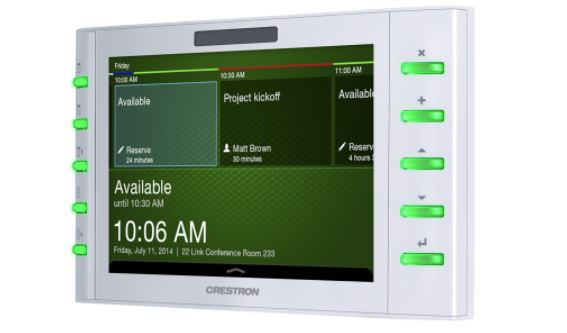 provide an invaluable productivity tool for organizations with multiple conference rooms and meeting spaces. Mounted on the wall outside each room, they allow anyone to see at-a-glance if a room is available or in use, and view details about the current meeting. Also the room scheduling touch screens implement the ability to directly connect to Microsoft® Exchange, Office 365®, and G Suite™. This can eliminate time trying to figure out if a meeting was cancelled, a meeting was moved to a different room and if your company upgrades to additional Crestron sensors it can even tell if the meeting room is being utilized when booked through viewable reports.
Ask an expert today to see how you can promote growth through innovation, use technology in recruiting and promote employee retention.