Products We Loved at LightFair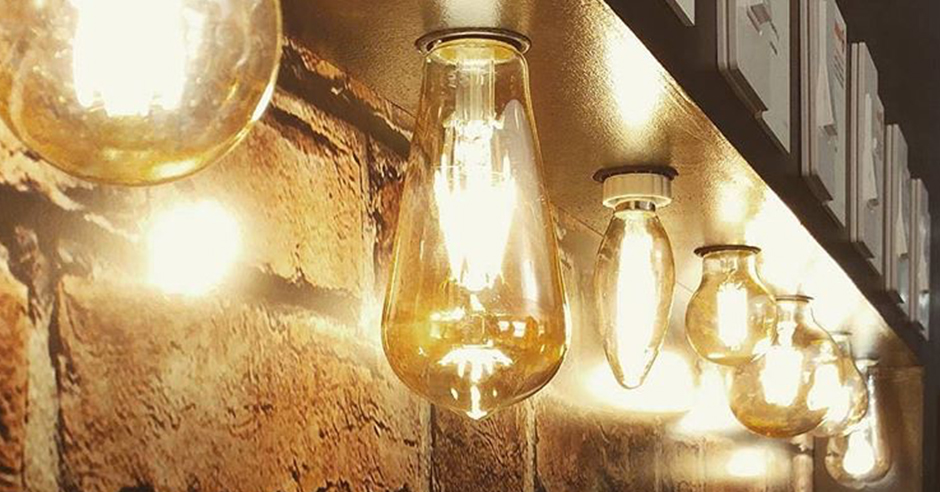 This spring, our Lighting Design Studio attended LightFair International – the world's largest annual architectural and commercial lighting trade show and conference. This provided a great experience for our Lighting Designers to learn the latest research on creating economical solutions that are energy efficient,  how to make lighting controls occupant friendly, and of course, they saw some great light fixtures!
What we saw and why we think they're so cool…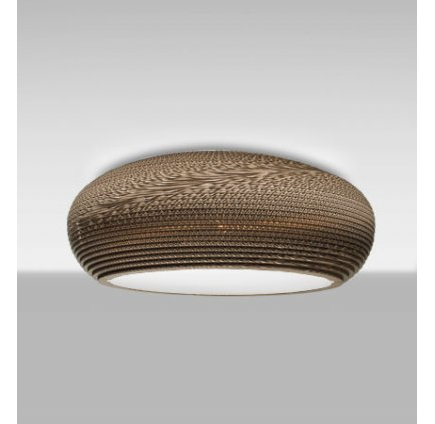 This high end light fixture is made out of cardboard – yes, we said cardboard.
Why we love it: This LED fixture is composed of intricately cut layers of tan corrugated cardboard. It is ideal for today's modern architecture and is a fantastic conversation piece!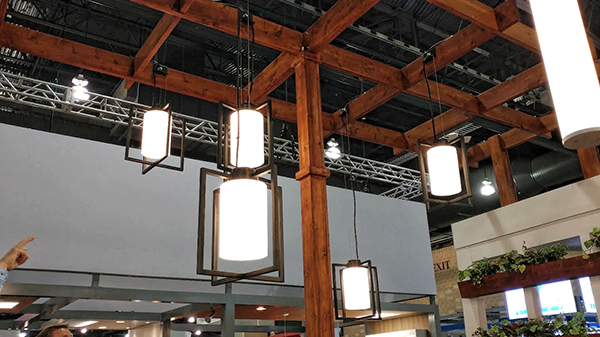 Visa Lighting showcased these custom, high-quality fixtures that really bring a residential feel to your space.  These were used in a patio setting and gave the feeling of being outdoors. And if you want to actually use them outdoors, you can!
Why we love it: We love the comfortable, modern aspect to these fixtures. And better yet, they're manufactured and assembled in the U.S. with sustainable practices and responsive design.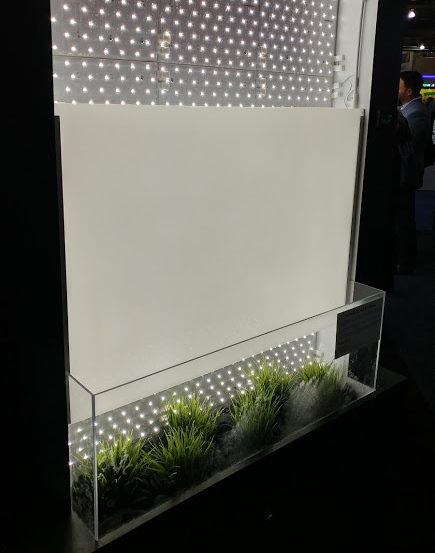 Flexible Lighting Solutions, by Cooledge
Design with light and illuminate ANY surface with these paper-thin, sheets of LED Diodes.  Cooledge can be cut, sized and shaped on-site to be used on walls and ceilings, across facades and framed views.
Why we love it: We love the idea of designing with light as a material – rather than as a fixture. The added bonus is that they are LED, making them energy efficient!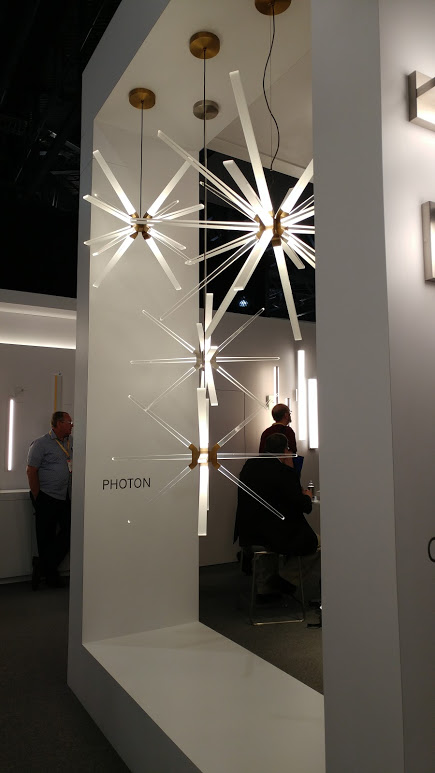 Photon 34 Chandelier, by LBL Lighting
We are so excited about this product, and we're excited about the price as well!  This is a starburst silhouette suspension fixture that will bring drama and sparkle to any decor.
Why we love it: The light passes through the glass from the middle of the chandelier, not behind it. We can't wait to incorporate this statement piece into a project!
The Mara Grande and Spur Chandelier, by Tech Lighting
The Mara Grande Chandelier (left) features forty five individual frosted glass globes which smoothly diffuse the LED light sources for an unmistakably high-end look.  The Spur Chandelier is a wholly modern interpretation of classic multi-arm chandelier, five arms each feature a cluster of five glass spurs dramatically extending in opposing directions.
Why we love it: With their plentiful scale, both chandeliers will be an incredible choice for making an impactful statement in any space.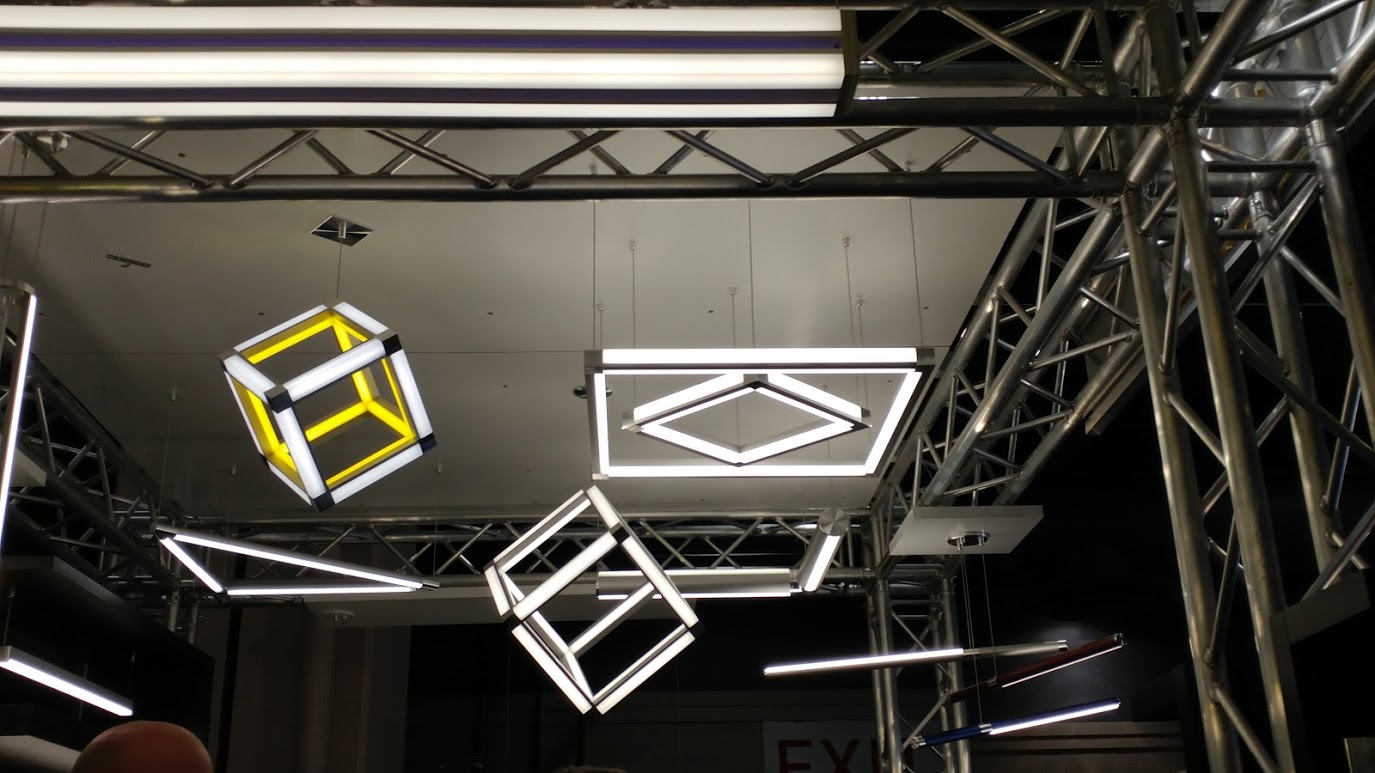 Make your own unique and impressive shapes with these captivating and intriguing fixtures. And don't worry about the seams – the lighting is consistent throughout the entire fixture.
Why we love it: They're easy to install. Easy to Customize. And just plain cool.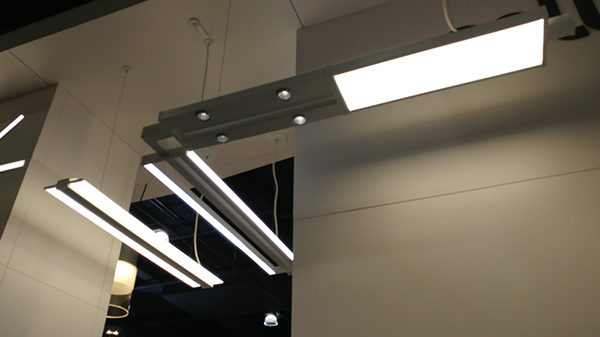 Miaura, by Selux
The Selux Miaura utilizes a trunking-tape system, allowing various modules of the product to attach to one another, allowing you to mix and customize various modules for specialized lighting concepts.
Why we love it: These fixtures limit glare significantly. This is a side-lit panel that diffuses light downward, not outward. It can be adjusted for use as accent lighting, wallwash, or general room illumination. The possibilities are endless.
Rubik Color Accent offers a luminous palette of colors that can create rich colors ranging from dark hues to vibrant neons to pastels.
Why we love it: Match or complement architectural finishes while still allowing the luminaire to deliver white light.
---
Ask Us for a Lighting Consultation
Proper lighting is essential for the workplace. Good lighting has a direct impact on employee productivity and overall health.   We are happy to work with you to evaluate your existing lighting and energy use in your facility. We also welcome you to our Design Center to see the multitude of ways that general illumination can be achieved without compromising the environment – or breaking your budget.
BSI has been improving the way people work since 1947.  Our in-house professionals design, build and furnish interiors to create collaborative and inspirational environments.  Find out how you can improve employee wellness, increase productivity, and improve your office design with a complimentary lighting evaluation by our Lighting Designers.