This week, our Director of Lighting Design, Tracie Losch was recognized with a Section Award from the IES (Illuminating Engineering Society of North America) for her commendable achievement in lighting design at Waukesha State Bank.
Waukesha State Bank selected BSI to renovate their 18,000 sq ft space to reflect a new, 21st century modern aesthetic which would blend well with their existing 1950's "mid-century modern" architecture. BSI provided the interior and lighting design, office furnishings, and electrical services for the project.
An Energy Efficient Lighting Design
Tracie designed a lighting layout which featured large scale geometric light fixtures in multiple sizes and mounted at various heights. This volume worked perfectly to fill the 20 foot ceilings in the lobby of the facility.  Tracie selected new LED light fixtures for the lobby, and the Community Room, which results in a 28.6% energy reduction for the client.  Furthermore, by incorporating LED lighting, maintenance costs are also greatly reduced.
To further conserve energy, daylight sensors were installed within the digital lighting system due to the abundance of natural daylight that filtered into the Lobby and Community Room. Dimming scene controls were incorporated to provide flexibility for a multitude of uses and settings.
"This was a unique project where we had the opportunity to work with a great client that trusted us to use our creativity to modernize their historical building," said Tracie Losch, Director of Lighting Design at BSI.  "I'm proud that we were able to provide Waukesha State Bank with an award that acknowledges their beautiful space."
We are thrilled that the BSI Lighting Design and Electrical Services teams were recognized by this national association for their outstanding talents and achievements!
Waukesha State Bank Photos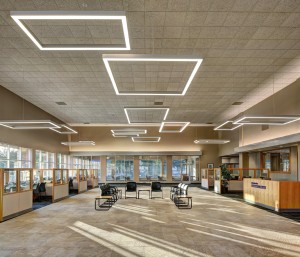 ---
Complimentary Lighting Evaluation
BSI has been improving the way people work since 1947.  Our in-house professionals design, build and furnish interiors to create collaborative and inspirational environments.  Find out how you can improve employee wellness, increase productivity, and improve your office design with a complimentary lighting evaluation by our Lighting Designers.