Collaboration at the Touch of a Button
Having the right audio visual technology in your workplace is crucial to collaborate, present, and thrive in today's workplace. But simply HAVING the technology is not good enough anymore.
Your Technology Must be Easy to Use
There is no point in making the investment if your users are unable – or unwilling – to use it because of difficulty.
Today's technologies can be seamlessly automated and controlled through a simple and easy to use touch panel.  Control your lighting, your motorized window shades, your presentation display, even your room scheduling — all at the touch of a button.  If your technology isn't already that easy to use, it can be!
Your Technology Should Blend Seamlessly
Gone are the days of eye sore speakers, amplifiers and tangled masses of cords and cables.   Conferencing cameras and speakers can and should be integrated in your existing design elements to prevent distraction and allow your users to focus on the presenter.
Toss that cardboard box that holds all of your extra HDMI, VGA, and tablet cables.  Replace it with flip-top touch screen control panels that include retractable cables for various inputs. These systems can be installed right into your existing table.
Last but certainly not least, your system should be housed in a primary racking structure that supports your electronics, provides cooling and cable management.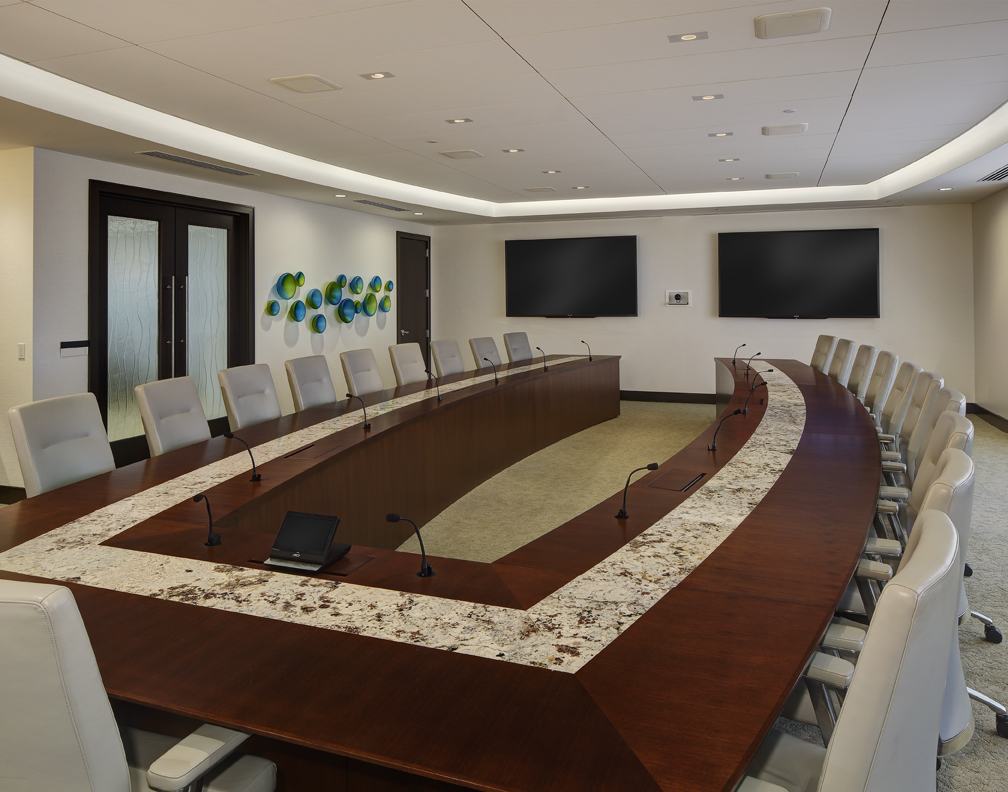 Case Study: Boardroom Integration
Joy Global selected BSI AV Solutions to install and commission their new AV system in their Corporate Office Boardroom. This was accomplished without disrupting employees and daily business.  The BSI AV Solutions team designed and installed the following:
New Telepresence system with dual conferencing cameras for instant face to face collaboration.
Two 90 inch flat panel displays for bold and breathtaking picture quality.
In ceiling speakers and amplifiers have premium sound quality.
Lighting controls and motorized shade systems provide automated shade control with a simple press of a button.
Automation and control of the room is integrated into a simple easy to use 7 inch wired touch panel.
Dual professional conferencing digital mixers feature next generation noise cancelling to counteract ambient noise and create the most natural interaction.
Installation of primary racking structure to provide the frame to support electronic equipment, cooling and cable management.
---
BSI has been improving the way people work since 1947.  With BSI AV Solutions, we pride ourselves in custom installation of today's technologies with a non-disruptive professional installation. How can we help you integrate today's best audio visual technologies and controls into your workplace?