My All-Time Favorite Chair
by Kate Venturini, BSI Account Executive

The Aeron is a modern classic. It is the most popular – and recognizable – office chair in the world.  You have to try it!  For a demonstration of the Remastered Aeron, email me today!

Why is the Remastered Aeron Better?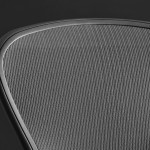 Zones – 8Z Pellicle Material
By doing away with foam and fabric, Aeron solved one of prolonged sitting's biggest predicaments: the build up of heat and humidity close to the body.  Pellicle allows air, body heat and water vapor to pass through the seat and backrest to help maintain even and comfortable skin temperatures. The Remastered Aeron's new "8Z Pellicle" pushes the material to a whole new zone — eight of them!  The new 8Z pellicle offers unprecedented comfort through eight varied zones of tension in the seat and back.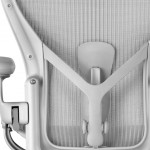 PostureFit SL
If an active body is at its strongest when standing (chest open and pelvis tilted slightly forward), then it makes sense that you should be sitting like that too.  That's where PostureFit SL comes in.  By incorporating adjustable sacral and lumbar support, PostureFit SL brings the technology to a whole new level. The Remastered Aeron now comes with four back support choices: PostureFit SL, Adjustable Lumbar, PostureFit, and Basic.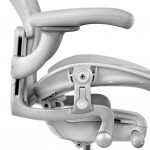 Intuitive Tilt & Adjusting with Ease
The new Aeron enables people to shift from an upright position to a full-recline smoothly and simply.  The updated chair offers updated user adjustments for intuitive fine-tuning; advancements in engineering have allowed Herman Miller to scale back the amount of turning, twisting, and time spent customizing a personal fit.  From seat to back to armrests, get proper ergonomic support through a larger variety of tasks.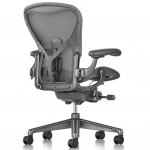 Environmentally Sensitive Design
The Remastered Aeron is made up of 53% recycled content, and is 89% recyclable. It is now available in three colors:
Graphite.  Deep Dignified. Graphite Refines Aeron's original color scheme for a crisp, sculptural appearance.
Carbon. Balanced. Elegant. Universal. Carbon blurs light and dark, and warm and cool, to harmonize with a variety of environments.
Mineral. Light. Fresh. Ethereal. Mineral illuminates Aeron's finer points to offer a lightness that borders on translucence.
 The Aeron: Remastered