Inspiring Youth to Consider the Trades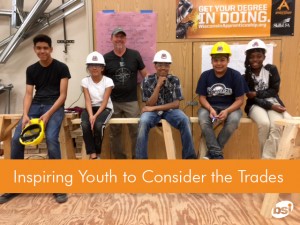 Last week, Tom Haydon – our Vice President of Construction Services – along with four other instructors, spent the week teaching area students how to build wooden skiffs.
The Building2Learn Consortium created a Boat-Building experience for nearly 40 students from Milwaukee area private, public, choice and charter schools. The hands-on week long building camp, designed to inspire youth to consider careers in the apprenticeship trades, was hosted at the Southeast Wisconsin Carpentry Training Center in Pewaukee.
Tom has been a volunteer with All Hands Boatworks for a long time and had the incredible opportunity to teach and share something that he is passionate about. All Hands Boatworks and the Southeast Wisconsin Carpenters Training Center are founding partners and members of the Building2Learn Consortium, which is creating a replicable workforce training model to  inspire and prepare young people for rewarding careers in the skilled trades.
For seven hours each day, the students not only worked on their wooden boats, they met professionals from the construction trades, including architects, construction superintendents, journeymen carpenters, electricians, and plumbers. Hands-on activities ranged from welding and construction math to nutrition.
To view photos from the building camp, click here.