Choosing the Right Display for your Business
by: Victor Hernandez, BSI AV Systems Designer/Project Manager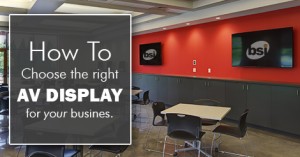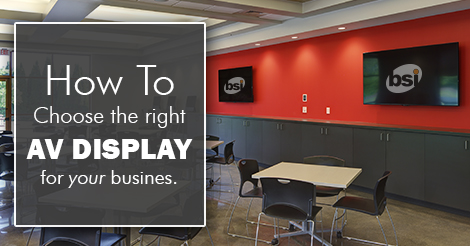 Choosing the right display is crucial for user experience and the overall function of your audio visual systems. There are several factors that I tend to consider when helping our clients select a display:
1. Room & Audience Size
The display size that I recommend is determined by the overall size and the number of participants in the space. I tend to use the guidelines below for common applications:
Huddle Room:  55" and above
Huddle rooms are commonly defined as small conference rooms, that may consist of 3-6 people. This room in our Design Center, comfortably seats 6 people and features a 60" flat screen display.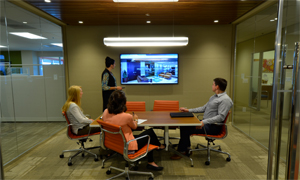 Conference Room / Board Room: 70" and above
Our Founders Board Room can seat 13 people around our custom circular table. This room features an 80" flat screen display that is used for presentations and video conferencing.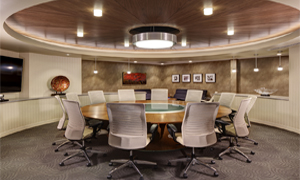 Training Room / Classroom: 70" and above
This Training Room in our Learning Center comfortably seats 35-40 people when set up with classroom style seating. This room features two 80" flat screen displays that are used for presentations.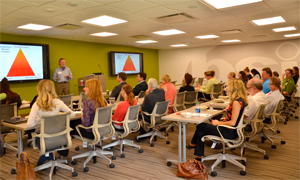 Auditorium: Custom
We typically treat an auditorium as a custom project. The size of the screen is determined by the capacity of the room, the seating arrangement, and the other systems needed for the space.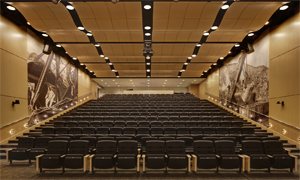 Viewing Distance
Equally important to the room size, is to consider where your participants are seated. It is important to measure the length in which the farthest participant will be sitting from the display.  Attaining the correct size of the screen will allow everyone in the room the view the screen comfortably from any angle without any sort of strain on the eyes.  Below is a standard rule of thumb for your display size:
| | |
| --- | --- |
| Furthest Viewer | Suggested Display Diagonal |
| 12' | 46" |
| 13' | 50" |
| 14.5' | 55" |
| 15.75' | 60" |
| 17' | 65" |
| 18.5' | 70" |
| 21' | 80" |
| 24' | 90" |
| 27' | 103" |

Single Vs. Dual Displays:
Frequently, I am asked about the necessity of single vs. dual displays and flat vs. curved displays. For smaller projects, such as a huddle room or a casual meeting space, I recommend installing a single flat screen.  Dual displays are going to be more common as we look at collaboration spaces or large training rooms and conference rooms.  Dual displays are also great to consider when video conferencing is being used.
Flat Vs. Curved Displays:
As for the shape of the display, flat screens are most commonly used for business, especially for meeting and presentation spaces. Curved displays tend to be used more often in residential projects for home entertainment, allowing the participants to view content with the elimination of glare.
Do I Really Need 4K?
4K resolution, also called 4K, refers to a display that has a horizontal resolution of approximately 4,000 pixels. Most of the systems and displays that I specify for a project are 4K compliant, but it is important to know that right now very little content is available in 4K due to the technology being fairly new.  With prices coming down on 4K, and if you want to ensure that your display will handle the highest resolution once that content is available, I would recommend selecting a 4K display, especially if the display is being used for digital signage.
The case where I do not specify 4k, is typically when the space requires a projector. This is particularly due to cost, as it can be considerably more expensive in this instance.
What is my next step?
Once you have determined the size of your space, the capacity of your space, and the display size that you would prefer, there are a number of AV products that I recommend you take into consideration.
After determining display size, I always suggest we look at how we are going to get content to the screen (ie: wireless, wired, IPad, PC etc.).  I prefer a wired connection to the screen for HDMI and VGA via a table connection or wall connection.
Next we should discuss the audio. Since most TV speakers are not recommended for large spaces, I prefer to enhance the audio with overhead speakers, speaker bar, etc.
Lastly, we should consider control.  How do you want to control the room? I usually recommend an in-wall touch panel or wireless touch panel for simple source selection, volume control, and power on/off automation. We also have the capability of controlling window treatments, temperature, and lighting through automation and controls. The possibilities are endless!
---
WHY BSI AV SOLUTIONS
Victor Hernandez has 24 years of experience in the AV industry and leads BSI's AV Solutions team, which specializes in the sales, design, installation and integration of industry leading audio visual technologies. BSI's AV Solutions division expands our comprehensive Design, Build, Furnish offering of products and services that enhance our clients' workplaces. For more information on our products and services, please email info@buildingservice.com