BSI is Wisconsin's 1st Flooring INSTALL Certified Contractor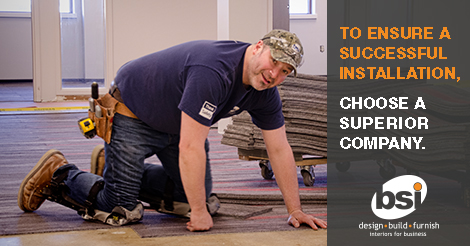 BSI  is an INSTALL warranty contractor, making BSI Wisconsin's first INSTALL Certified Contractor in both resilient and carpet products. 
INSTALL certified contractors are recognized throughout the construction industry as skilled and dependable flooring professionals. In addition to their installation warranty, clients who use INSTALL certified contractors will receive an additional, free and extended INSTALL Warranty on Labor supplied by the INSTALL Committee.
Last week, BSI's floorcovering technicians completed a written evaluation followed by a certified training at the Southeastern Wisconsin Carpenter's Union.  The BSI team are the first installers in the United States to be INSTALL certified by all manufacturers of floor preparation products.
"This additional certification confirms that we have a team of dependable master craftsmen that are experts in their field" said James Macejkovic, Executive Vice President of BSI. "It confirms that BSI continues to be a leader in our industry. It also allows us to continue providing the best service to our clients, while also providing an additional warranty on our flooring installations."
INSTALL is an Alliance of 120+ floorcovering mills, manufacturers, hundreds of contractors and thousands of installers working together to address the needs of the industry by standardizing effective installation training and certification across the United States and Canada. INSTALL trains, certifies, and then provides skilled, productive professionals to contractors, who then are able to keep projects on time, on budget and work according to specifications. Because INSTALL partners with industry manufacturers; architects, project owners and facility managers know that INSTALL crews will be experienced in working with the specified flooring because that product's manufacturer helped train the floorcoverers.
BSI has been improving the way people work since 1947.  As one of the most complete commercial interior companies in the United States, BSI provides a unique and comprehensive approach of in-house experts to design, build and furnish interiors for business. For more information about BSI and its' design, build, furnish services, see our website www.buildingservice.com.