A thoughtfully maintained and designed work environment is a great way to market your business. It shows both your clients and your employees that you take pride in your company and you care about both your employees and the customer experience.  Investing in your interior can improve your bottom line in a number of ways.
CONSIDER THE TOTAL PACKAGE.  Furniture, flooring, wall color, finishes and window treatments are all important to consider in your space.  Artwork and Accessories play a very important role in the design and feel of the space. They most often set the tone of the space and can strongly impact first impressions.
CONSIDER YOUR BRAND.  The variety of art options available today are much more diverse than they were even a decade ago. This has magnified the impact that art can have on a space.  We have the capabilities to incorporate your brand and your culture into your space through multiple mediums of artwork.
CONSIDER YOUR TIME.  We understand you are very busy and selecting art may seem time-consuming. Our collaborative process makes art selection simple for you.  From your initial consultation to the final installation of your art, BSI will manage every detail for you.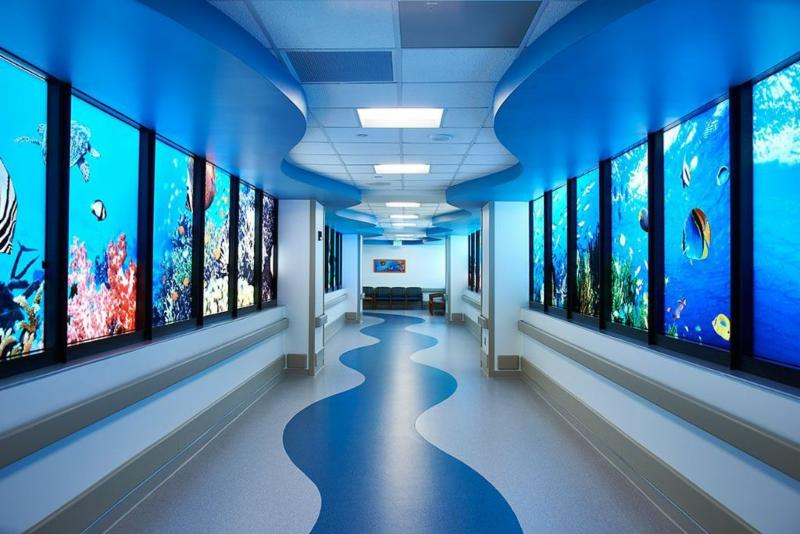 In the photo above, the corridor is lined with windows that once overlooked an adjacent rooftop of HVAC equipment. This once unsightly view has been transformed into an aquarium-like setting through the use of window treatments depicting an underwater world.
SOLUTIONS.  Regardless of the setting, every space has an area that could benefit from the right art solution. BSI and Great American Art have partnered to offer you solutions for all your interior needs. We are passionate about what we do and we have the knowledge and resources to help you create spaces that truly improve all aspects of your business.
For Your Complimentary Art Consultation, email info@buildingservice.com